Residential Services Provided
---
RATES
Residential Weekly Service
| | | |
| --- | --- | --- |
| Garbage | Yard Debris | Monthly Rate |
| 20-gallon cart | 60-gallon cart | $33.68 |
| 35-gallon cart | 60-gallon cart | $38.98 |
| 60-gallon cart | 60-gallon cart | $51.21 |
| 90-gallon cart | 60-gallon cart | $57.82 |
Once per Month Service
| | | |
| --- | --- | --- |
| Garbage | Yard Debris | Monthly Rate |
| 35-gallon cart | 60-gallon cart | $21.52 |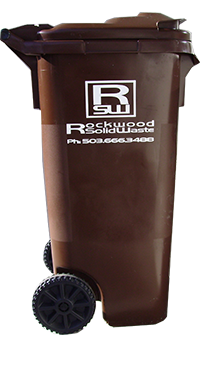 General
As a residential customer of Rockwood Solid Waste you have weekly collection of garbage, recycling and yard debris. To ensure pick-up, have everything curbside by 6 am on day of collection
Options
| | |
| --- | --- |
| 20-gallon cart | 35 lbs |
| 35-gallon car | 60 lbs |
| 60-gallon cart | 120 lbs |
| 90-gallon cart | 145 lbs |
GARBAGE COLLECTION GUIDELINES
Bag lightweight materials, including ashes and cat litter, before putting them in the can or cart. Doing so will prevent them from blowing away when collected.
Do not put household chemicals (e.g., paints, pesticides, herbicides) in the garbage. Call Metro at 503-234-3000 for information on proper disposal.
Your can or cart must not exceed the above weight limits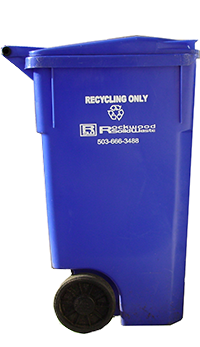 RECYCLING COLLECTION GUIDELINES
Rockwood Solid Waste will provide you with one Curby recycling bin for glass only and a blue recycling cart for all other recycling materials. Please place your extra curby bin out on your collection day for us to pick-up.
Please use your Curby bin for your recycling glass only. Make sure to set it out only when full, as it is a signal to us that you have recyclables to be picked up.
Prepare and sort your recyclables according to the instructions on the lid of you're recycling cart. We will not collect recyclables that are contaminated with other materials or garbage .
Glass must be set in the provided curby near the recycle cart on curb.
Motor oil must be put in a transparent jug (milk jug) and set near the recycle cart on curb.
To see a list of recyclable materials click HERE.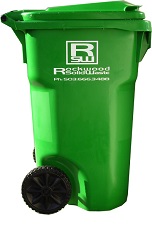 General
For more information on the yard debris exemption program please call 503-618-2525 (Gresham), 503-665-7929 (Fairview) or 503-667-6211 (Wood village). You may only apply for this exemption within thirty days of starting garbage service or from March 1 to June 30 annually.
Options
Additional cans, bags or bundles may be set out for an extra charge. If you compost all of your yard debris, or use a city-approved landscaper, you may be able to save $2.85 a month on your garbage bill.
YARD DEBRIS COLLECTION GUIDELINES
Include leaves, grass clippings, tree and shrub pruning's less than four inches in diameter, and other things that grow in your yard. Pumpkins are okay, too.
Don't include plastic bags, stumps, rocks, dirt, ashes, or animal waste.
Yard debris should fit in the can or cart with the lid tightly on and must fall freely when the can or cart is emptied.
When you place your can or cart at the curb, make sure the sticker provided by us is visible at the curbside.
If you put out a bundle instead of a can, make sure that it is no longer than 4 feet in length and 18 inches in diameter.
You may set out additional cans, bags or bundles at an extra charge.