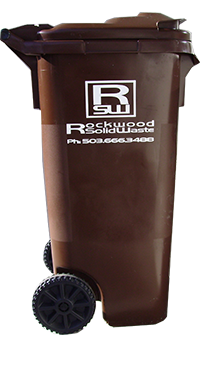 Here are guidelines for garbage waste:
Food-soiled paper, freezer boxes, take out containers, styrofoam, tissues, napkins, plastic bags, trays, clamshells, toys, packaging etc.

Please bag animal waste, cat litter, diapers, ashes, sawdust, packing peanuts, and broken glass.

Computers, monitors, or TV's

Hazardous waste (chemicals, flammables, etc.)

Fluorescent lights

No liquids of any kind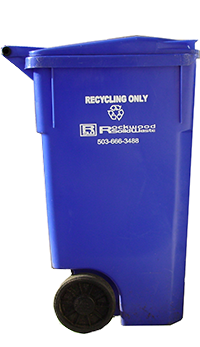 Please prepare your recyclables as instructed below. Recycling properly saves energy, reduces pollution, and preserves resources for future uses. Even a small amount of contaminants can cause manufacturers to reject an entire load of recycling, which may then end up as garbage in the landfill. This adds to the cost of collecting and processing, which can cause an increase in your garbage collection fees
Paper & Cardboard 

– Magazines, catalogs, phone books

– Opened junk mail, office paper

– Corrugated cardboard boxes

– Cereal, cracker, and shoe-type boxes

– Shredded paper  (place in paper bag)

– Paper bags, paper egg cartons

– Labels from metal cans

– Wrapping paper, greeting cards (no tape, ribbons, or foil paper)

– Milk, juice, and soup cartons (rinsed, drained)

– No plastic bags

– No liners

– Paper with food residue (pizza boxes, etc)

– No wax, plastic, or foil coated paper

– No paper containing wet strength (frozen food boxes, paper cups, paper plates, paper towels, tissue, pet food bags)

Metals

– Metal cans (rinsed, drained)

– Clean foil, pie plates, and trays

– Empty aerosol cans (don't puncture or remove nozzle)

– Other scrap metal

No longer than 30 inches

Plastics

Plastic bottles and tubs 6 oz.

or larger (rinsed, no lids)

Buckets no larger than 5 gallons

Rigid Nursery Pots 4 inches across

or larger 

(rinsed, no dirt)

– No plastic bags and film (recycle plastic bags at the grocery store)

– No plastic bottles and tubs smaller

than 6 oz.
– No styrofoam packaging, peanuts,

trays, take-out containers
– No clear "clamshells" (bakery containers)

– No lids, trays, cups, plates, silverware

– No blister packaging (tough, clear, product-

shaped display plastic)
– No toys

– No plastic that contained hazardous

material (motor oil, pesticides, etc)

Glass

NO Glass of any kind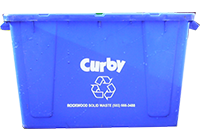 Glass Bottles & Jars 

Rinsed, loose, unbroken bottles and jars only

No lids or bags

Plates, glasses, cookware, ceramics, candle holders, vases, light bulbs, mirrors, window or picture frame glass, any liquid other than motor oil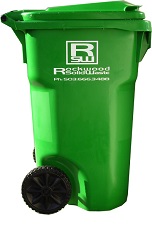 If you prefer to bag your yard debris before placing it in your cart, or have more than will fit in your cart, be sure to use a biodegradable paper bag.  You can find them at most grocery and hardware store.
Grass clippings




Leaves




Flower, shrub & tree prunings

 Nothing over  4″ in diameter & 36″ in length




Dirt, sod, wood, lumber, stumps, logs, flower pots, plant tags,  concrete, rocks, animal waste, cat litter, food waste,metal, garbage, plastic bags